This page shows the progress of wealth coin #3 after leaving Japan:
5/19/2006 – The Everyday Goddess received wealth coin number 3 on May 19th and took it to The Hollywood Walk of Fame (now how cool is that? I wonder what the people around her were thinking as she placed the coin down to take photos of it on that star?). She also shared her wish:

Wealth Coin #3 in Hollywood
Now, I'm supposed to make a wish before I pass it on. And since it's a wish, not a goal, I'm going to make it a big one.

I'd like to let go of my bitterness about not having the time and advantages that money buys. I'd like to be a little less infuriated when I bump up against a financial limitation that holds me back. I'd like to stop being so mad and so frustrated about money all the time.

I wish for the strength to accept the limitations of my financial situation and the wisdom to make the best decisions I can while still pushing forward toward my goal to become a director.
Liz hand picked the next destination and the next stop of wealth coin #3 is blogography and she added some thoughts about her experience taking the photo of the coin.
5/31/2006 – Wealth coin #3 made it's way from Hollywood, CA from Liz up the coast to Cashmere, WA where David from Blogography has taken possession of it and has the right idea when it comes to these coins:
Now… before all the nut-jobs out there decide to send me an email which condemns me to hell for worshiping pagan idols or some crap like that… please repeat after me… IT'S JUST FOR FUN!!

Though, if I were to go shopping for a god, I think anybody branded "the god of wealth" would be at the top of my list.
David also put together a nice little piece of art work featuring the coin: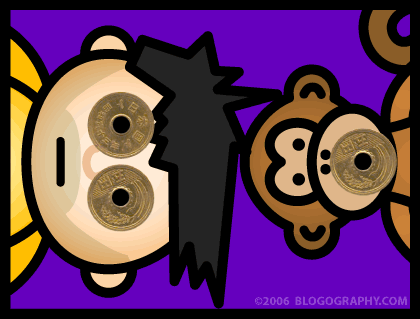 Coin #3 is off to Chicago and a blogging meet-up where David said, "…it will be passed around to a few people before traveling
onward…" Can't wait to see who gets hold of it and where it ultimately ends up!