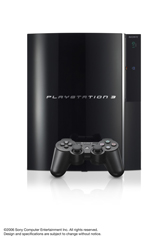 I've been watching the news, the long lines and what people are spending on the secondary market for PlayStation 3 and Wii gaming systems and I wonder how people so intelligent can be so financially stupid when it comes to gaming. It's downright funny that those that like video games will spend hours strategizing on how to best play the games they enjoy, but when it comes to actually purchasing the latest consoles, they head straight into the marketers' trap without giving it a second thought. If they would step back a second and look at this issue from a financial perspective rather than eat the propaganda hype that the game makers are dishing out, they would see that the best shopping strategy to get the most value for their money in both systems and games would be to play the cyclical nature of the gaming units.
Now I know that the suggestion of not getting the gaming system the second it hits the market is unthinkable to a lot of gamers, but that is simply because they haven't planned out a strategy. When you don't have a strategy in a game, your character dies or you lose. When you don't have it when spending your money, you pay far too much for what you get.
The first step is to to place a little financial perspective into the equation. There is always a huge build up in excitement when a new gaming system comes to market and that means you will have to pay a premium price for the unit. If you are lucky, you'll spend hours in line and get one at full retail price. More likely, you'll have to go to the secondary market and purchase it at above retail prices. What this means is that you will need to shell out a lot of cash for the system. That is not mentioning the full retail price for peripherals and games.
The cyclical nature of how the these games systems work is obvious to anyone who wishes to open their eyes. Exactly what will happen is staring directly at anyone that wants to see. The game systems will sell at premium prices until the hype starts to wear off. PS3 prices have already plummeted on the secondary market over what they were commanding in the last week. But the real signal of the cyclical nature comes from what the year old Xbox 360 units are doing. You can now pick them up for as little as $100.
What this all means is that the financially savvy gamers are picking up the Xbox 360 while the crowds are focused on the PS3 and the Wii. But it doesn't stop with the the core system. It goes to the games themselves. Anyone picking up a game with a PS3 or Wii are going to pay full retail price for it. Those that are picking up the Xbox 360 will also be picking up their favorite games at a discount this holiday season.
Now one could argue that the superior system makes it worth the extra money. The problem with this reasoning is that the best games for a system usually come out well over a year after the system first comes to the market. It takes game developers that long to understand the potential of the new systems. So even when you wait a year to purchase the system. you really aren't missing out on much because the best games are just beginning to arrive or still to come. As HarcoreWare.net nicely points out:
The other obvious point here is that right now the Xbox360 already has a very impressive line-up of titles on store shelves; the ps3 just launched, and has virtually nothing of interest. Also, many 360 games are already discounted ($35 for Fight Night 3 on Amazon). PS3 games are all full price since it just launched.
So by having a bit of patience, you get the system for a better price and games to go with the system at a better price (plus a much larger selection) meaning that you can get a lot more with your money. Doing this can save you well over $1000 and that means a $1000 worth of games that you can purchase.
While I have focused on the PS3 and Wii because they happen to be the "hot" items this holiday season, this strategy applies to almost anything that you purchase. If you are willing to be a bit patient, you will find that your pocket book and bank account will look a lot nicer than the Jones' down the street. It's a strategy to learn while you're young that will treat you well in later years. Take the time to strategize your purchases the same way you do playing games and you will end up being a winner when it comes to your finances.