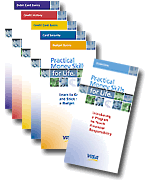 If you are looking for some basic (but free) personal finance materials, Visa is giving away a number of informational items fro free from their Practical Money Skills site:
Free Solar Powered Calculator
PMSFL Teachers Guide W/2PK CD – a 2-CD classroom educations set which includes lesson plans, worksheets, calculators and games to help students develop personal finance, budgeting and money management skills. (reserved for teachers only)
Practical Money Skills for Life CD-ROM – three programs that make learning financial management skills fun: interactive calculators, the Get out of Debt Quiz Show, and The Money Management Intelligence Game.
Presenter's Guide and CD-ROM
...