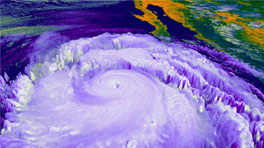 If you had any doubt that you could use your instincts to predict virtually any future event and make money, that doubt should quickly be fading. HedgeStreet, an online futures market which is government regulated has launched "hurricane contracts" to speculate on the damage they will cause.
There are two types of hurricane speculation in which you can participate. One is on whether insurance claims for the 2006 Atlantic hurricane season (through November 30) will exceed a certain amount. For example, investors can speculate whether the hurricane season damages will exceed $100 million, $1 billion or $25 billion.
The second way that investors can speculate is on specific named
...