5:45 The workshops are over and I was finally able to meet another pfblogger out here (believe me, there are not very many at this conference) who was Nina from Queer Cents / Sitting Pretty who was actually leading one of the discussions (transforming your life with blogging). It was nice to actually meet one of the pfbloggers that I read on a regular basis and feel like I know a bit even though we haven't met before this.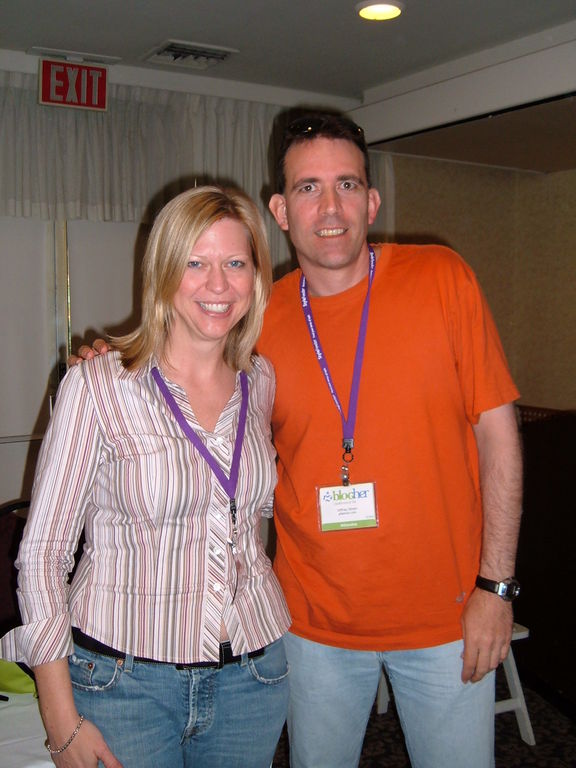 2:50: An interesting discussion on turning your blogging into a full time job. While much of the information was already known to me, they did go into other areas on how this can be made into a full time job. There was discussion on getting paid to write for companies which I think might be interesting to pursue.
One was that corporations are in need of bloggers because the marketing people don't get blogging very well. The advice was that if you present yourself to these companies, there would be an opportunity to become a professional blogger are in great need in this area. My personal opinion is that this is true and there is an great opportunity.
Another tactic is that some people don't place any ads on their sites, but are able to earn a living because their writing brings in business through people thinking them as an expert in that area and getting speaking engagements or referrals in other way. This was interesting as I have been considering doing a few speaking engagements about personal finance and some of my thoughts about saving.
There was also a lot of discussion about the thin lines that come with writing. How do you keep yourself from writing about topics that you know pay more for the ads the subject would bring up. What type of advertising do you accept and deny. Some good things to consider…
11:30: I missed out on the business / entrepreneurship from 10:00 to 11:00 for an informal group which was quite disappointing. The groups were informal and basically I couldn't find where they all met so after 30 minutes (of a 1 hour session) of searching I instead sat down with the closest group which had to do with kids, media and blogging. While this seems a bit off base of personal finance, I was interested in it because of Financial Baby Steps which I help my niece with and had a good discussion about stealth advertising. Since this stealth advertising gets kids hooked into the whole "Jones'" mentality earlier in life, it truly is important for parents to teach their children personal finances.
I currently in a discussion about tech issues – and Nate really needs to be here rather to me since most of it is flying over my head. I'm hoping the next session will be a bit more to my level…
8:10 AM Arrived at the conference, all checked-in, figured out how to connect to the wireless and am waiting for the welcome session to begin at 8:30. Nice continental breakfast all laid out and lots of freebies from sponsors of the conference (haven't even been able to look through all of them yet).
Feel a bit like a fish out of water – never good at conferences and such. At least I'm not speaking. Although I can do that now, it has always been a nerve racking experience for me. When I was teaching in Japan, I would get sick before having to teach the first class (funny thing is that once I started, I was always fine – go figure). I am looking forward to meeting some of the other bloggers and find out reasons that they have come here…

6:40 AM: I'm off to my first blogging conference. Yesterday was actually the beginning of the blogher conference in San Jose. I didn't attend the first day which was mainly workshops, but decided to attend the sessions today (mostly networking) since the the conference is being held in my back yard. Although I am a bloghim, I have been assured that I still would be welcome at the blogher conference.
I'm not sure exactly what to expect, but it should be fun to see some of the talks and meet a lot of the others that are doing the same thing that I'm doing out there. I will be updating this throughout the day as the conference goes on – time to get a bite to eat and then head to the venue…