Some updates on the wealth coins and where they are these days.
Wealth coin #3 made it's way from Hollywood, CA from Liz up the coast to Cashmere, WA where David from Blogography has taken possession of it and has the right idea when it comes to these coins:
Now… before all the nut-jobs out there decide to send me an email which condemns me to hell for worshiping pagan idols or some crap like that… please repeat after me… IT'S JUST FOR FUN!!

Though, if I were to go shopping for a god, I think anybody branded "the god of wealth" would be at the top of my list.
David also put together a nice little piece of art work featuring the coin: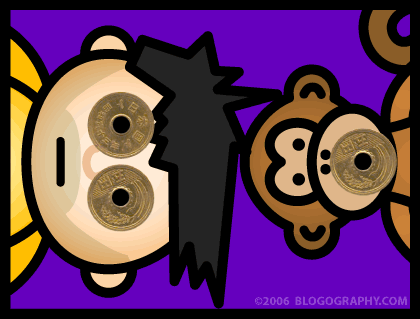 Coin #3 is off to Chicago and a blogging meet-up where David said, "…it will be passed around to a few people before traveling
onward…" Can't wait to see who gets hold of it and where it ultimately ends up!
I also heard the first news on coin #2 which is currently residing in Antiguo Cuscatlan, La Libertad, El Salvador, Centro America with miclason – have to love the coins making a nice international presence. From her email: "I shared the coin with my family, we all made wishes and are ready to send this coin on to someone else…" and where will the coin end up? That is still to be determined:
I'm thinking I can do 1 of 4 things with the coin:
1. give it to a friend here in ES and ask her to forward it along her own network of friends
2. send it to one of my friends in Central America and ask them to send it along
3. send it to a friend across the world (either South Africa or Australia) and ask them to send it along
4. send it along to someone from this board!!
There are still quite a few of the coins missing in action, but I'm hoping that is because people are just busy and they will begin to appear and be passed along in the coming weeks.