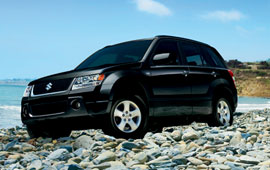 One of the great things about higher gas prices (if there ever can be a great thing) is that promotions pop up all over the place to help people with gas. Suzuki is giving away a free $50 Shell Gas Gift Card for simply test driving their 2006 Grand Vitara. The offer expires 06/19/2006.
To receive your 2006 Grand Vitara Test Drive Offer By E-mail, follow these instructions:

1. Fill out an online Quick Quote for a New 2006 Grand Vitara
2. Take the offer letter from your e-mail to your Suzuki Dealer.
3. Test Drive the New 2006 Grand Vitara.
4. Have Dealer Rep Sign Form
5. Attach Dealer Business Card
6. Mail Form to: Grand Vitara Incentive, 4216 W. Jefferson, Los Angeles, CA 90016

Suzuki, Japan's 2nd largest manufacturer of economy cars, has been building authentic SUVs for the last 36 years. And every Suzuki is backed by America's #1 Warranty – zero deductible, fully transferable coverage that lasts up to 7 years or 100,000 miles. It's experience you can depend on to enhance your Way of Life!
If you're looking for a car, having nothing to do this weekend or just enjoy test driving new vehicles, this would likely make it worth your time.