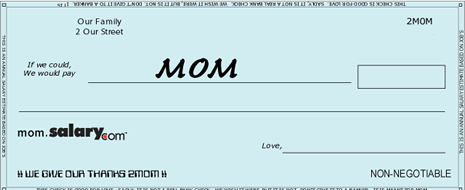 Let me be the first to say that I don't think a true price can be placed on the job of "Mom" – and unfortunately the business world doesn't acknowledge the job of Mom well since there is no salary being given by businesses for the work done. Salary.com has taken a unique approach and created a calculator that takes the work of the average mom and calculates what it would be worth if the same work were to be done in the business world.
Since the calculator doesn't apply to Japan, I have taken my sister as the guinea pig to see what her worth is according to the calculator. The first questions are:
Number of children

Pre-school age (0-5 yrs) 0 1 2 3 4 5+
School age (6-18 yrs) 0 1 2 3 4 5 6+

Type of Mom

Stay-at-Home
Working mom
My sister gets a 1 for pre-school aged kids, a 0 for school aged kids and is a stay-at-home mom…
According to the calculator:
If paid, the typical Stay-at-Home Mom in the United States would earn the pay shown below for her work as a mother.

National Low: $75,010
National Median: $134,121
National High $191,983
While this gives the national average, you can also enter your zip code and have a mom's worth calculated for your local area. Since my sister lives in San Francisco, I entered her zip of 94117 which significantly raised the low end of the scale:
Local Range

National Low: $134,140
National Median: $159,739
National High $190,432
These numbers are taken from what the average stay-at-home mom works at the following tasks per week:
Housekeeper: 22.1 hours
Day Care Center Teacher: 15.7 hours
Cook : 13.6 hours
Computer Operator I: 9.1 hours
Laundry Machine Operator: 6.7 hours
Janitor: 6.3 hours
Facilities Manager: 5.8 hours
Chief Executive Officer: 4.2 hours
Van Driver: 4.2 hours
Psychologist: 3.9 hours
All Jobs Combined: 91.6 hours
The calculator them allows Mom to place in the real hours she works at all those tasks to personalize her salary. Since I have no idea how many hours my sister works at each of these tasks, I place in some estimates. Here is what it said were the hourly rates for each of the jobs in the San Francisco area:
Housekeeper: $11.38 per hour
Day Care Center Teacher: $15.78 per hour
Cook: $18.29 per hour
Computer Operator I: $18.00 per hour
Laundry Machine Operator: $10.71 per hour
Janitor: $13.50 per hour
Facilities Manager: $45.45 per hour
Chief Executive Officer: $196.16 per hour
Van Driver: $18.18 per hour
Psychologist: $42.15 per hour
…and the results for my sister?
$231, 505
…and I still think she is under-paid…
Your can do your own calculations with the Mom Salary Wizard