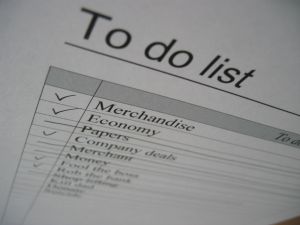 For one of the recent daily financial tips I wrote about making a to-do list as a way to save money. I received an email that asked, "What is the best way to make a to-do list?"
Now, I receive emails with strange questions from time to time about finances, but how do you answer something like this? Write down the things you know you need to do and then take the steps necessary to get them done so you can cross them off your list. I made the assumption what the sender really meant was "How do you decide how to prioritize the to-do list" to which I received another email saying, "No, what is the best way to make a to-do list?" When I said I had no idea what the sender wanted me to explain, the sender wrote back, "Please show me your to-do list so I can see how to do it."
While I assume my to-do lists will be quite boring, for the benefit of the reader I'll go ahead and write my lists down for today
When I started my to-do list this, I listed a single goal each day for about a week. I then moved to two and so on. My lists can get fairly long these days, but I aim to complete the top 5 on the list. Most days I do, some days I don't. If I can get further than the top five, great – but I don't worry about it if I can't.
When I first began, prioritising what was important was often the most difficult part. I've gotten better at it, but it does take some time. We'll see how it goes and whether you as readers feel it is adding a benefit to the blog over the long run. Here are my goals for today in order of priority:
1. Reserve Airline Ticket (top priority) – for trip back to the US this summer
Reservation made, but it was costly. The ticket cost $750 which is average, but the taxes ended up being $240. Apparently the Japanese airlines don't have to raise their prices and they can impose a "fuel surcharge" on the ticket. Pretty deceiving stuff. I was quoted $750 plus tax for the ticket and since tax was about $65 the last time I flew, I assumed it would be the same. You can imagine my surprise when this came in my email box for confirmation:
Air Fare: $750
Tax: $150 (Fuel Surcharge)
Tax: $60 (United States Tax)
Tax: $20 (Narita Airport Tax)
Tax: $10 (Insurance Surcharge)
I called back and asked if it was correct and they assured me it was. I called a couple of other travel agencies to make sure and all said the same thing. No getting around that one…
************************************************
Priority To-Do's
2. Get down to 35 emails in inbox – I had over 150 emails and usually get 100+ a day (not including spam) that need to be read, answered, etc. I'm trying to whittle that down so that my email inbox is empty each day when I go to bed – currently the goal is 35 emails for today.
Done for now, but the email box should begin to start filling up again in a couple of hours when people in the US start to get up…the challenge will be to continue to keep it under 35…
3. Add Articles To Main Site For Newsletter (one – two – three): I try to add three to five articles to the main site from outside authors to give some variety to our newsletter each week. This isn't quite as important as it used to be since I now have the managers producing unique content for the satellite sites that I can feature in the newsletter. Still, if I come across a good article that I think is worth people reading or has been sent to me fore consideration, then I'll add it.
Not sure I'll finish this one – I spent a good 1.5 hours reading different articles and there doesn't seem to be much worthwhile using at this point. I'll look for some more through the weekend.
4. Send To Carnivals – I need to look through this site here and see if there are any posts I made in the last week that are appropriate for any of the carnivals
Submitted to four carnivals – debt reduction, personal finance, frugality and clueless. I may try and arrange my summary of the monthly round-up of the satellite sites to be submittable to entrenpreneurship
5. Begin adding pages to Reduce Prescription Costs satellite site – (one – two – three – four – five) I have a list of coupon offers for prescription drugs where people can go to the main site and get discounts. While the list has about 40 offers, I will get them up slowly and try to get 5 up a day until it is complete.
Complete for today – placed up a general article plus 4 specific prescription drugs that offer coupon discounts
****************************************
Other To Do's If I Have Time
6. Update IRS Satellite site
**********************************
These are my daily "chores" that need to be done on a daily basis
Do my stretches (one – two) – since I spend most of my day in front of a computer, I do stretches at least 2 times a day. – Finished
Send out Freebies – (send) In addition to the freebies newsletter I send out once every three days, I have a google freebies newsletter that goes out on a daily basis. Sent
Send out Coupons – (send) Much like the above freebies newsletter, I send out a coupon newsletter as part of a google coupon group on a daily basis. – Sent
New Content For Sites (one, two, three, four, five, six, seven, eight, nine, ten) – I try and get 10 fresh pages of content up somewhere among all the sites we have. – Finished
Vacuum – (once) daily chore – Finished
Wash Clothes – (once) daily chore – Finished
Fold Clothes – (once) daily chore – Finished
Set and Clean Bath – (once) daily chore – Finished
Clean Cat Box (one – two) daily chore twice a day – Finished
Feed Dog (one – two) daily chore twice a day – Finished
Clean Up After Dog (one – two) daily chore usually twice a day – Finished
Wash Dishes (once) daily chore – Finished

**Note – you'll see some of these crossed off at strange times due to me living in Japan and the time difference

Good day overall – managed to get through almost everything except the articles for the newsletter – will continue to look for those, but can survive if I can't find anything that is good. Time to make another list and begin working on it!