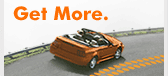 With the price of gas continuing to climb, Discover Card has timed their current promotion well. If you have a regular Discover Card, you can take advantage of it at no cost. Discover is running a 5% cashback program on gas and some related auto products for all their current card holders, but you must sign up for the free program to receive the benefit. From their website:
Take care of your car and get 5% Cashback Bonus on up to $1,000 in gas and automotive purchases through June 30, 2006.

5% Cashback Bonus

Gas
Car Washes
AutoZone®
Firestone Complete Auto Care™
Midas®
Pep Boys
Sears Auto Center

To sign up, log in to the Account Center or call 1-800-DISCOVER (1-800-347-2683), the
...