Okay, I admit it. I have a curiosity of people's coin jars. I love it when I visit a house for the first time and they have their coin jar in full view. I find it interesting the way that people collect their coins. Even though almost everyone in the world does it, no two coin jars are quite the same.
Some people will put bills in with the coins while other wouldn't be caught dead doing so. Sometimes the coin jar becomes a mini pack-rat collection of small things with screws, thumb tacks, paper clips and rubber bands thrown into the mix. Other times the coin jars are so neat that the family has a different jar for each different type of coin: penny, nickel, dime, quarter, half dollar and dollar. Some families have a community coin jar where everyone leaves their coins together, while other families have a coin jar for each individual.
"Jar" is also used extremely loosely here. While a good many are made of glass, just as many are made of different material in all shapes and sizes. Sometimes the coin jar was a default – the only thing around to hold coins when the person decided they needed to start a coin jar while other times it has been carefully chosen by the person to match his or her tastes.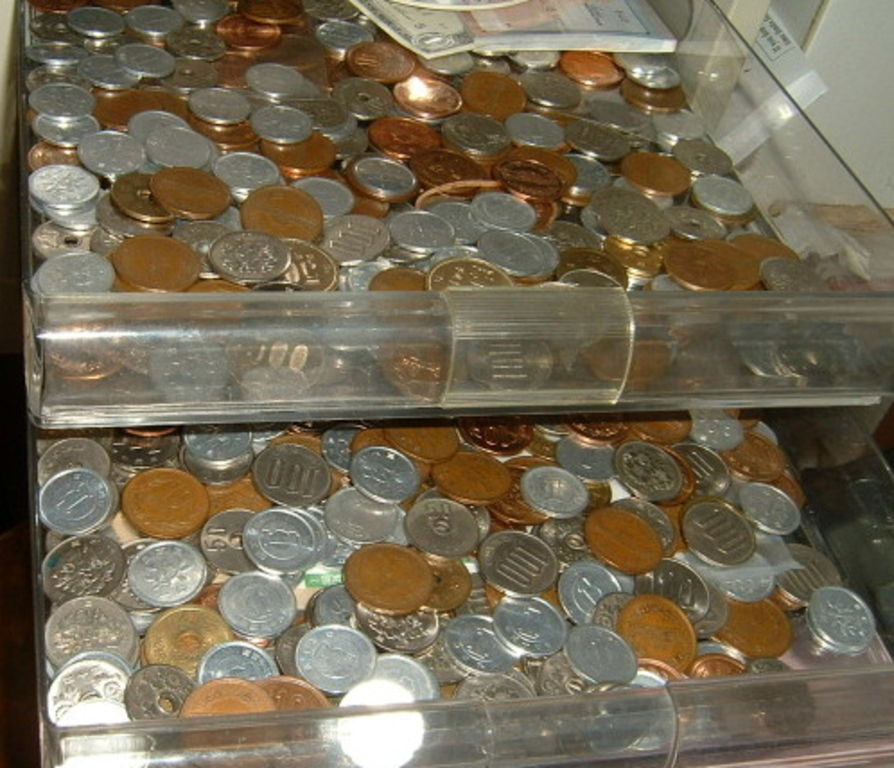 I've had a wide variety of coin jars over the years. I'm the type that ends up using whatever happens to be around when I need to put a pocket full of change down. Currently I use two drawers next to my desk as my "coin jar" These are supposed to hold paper, but I defaulted them to my coin jar due to convenience. My wife ends up getting a lot of packages from her hobby/business and most of them are pay on delivery. That means I need easy access to coins quickly when the doorbell rings and a package needs to be paid for and the two drawers have proven to be the most convenient place thus far. Truly, there should only be one drawer, but for some reason I didn't specify which particular one when I first decided to make them my new coin jar and so they ended up in one or the other drawer. Being too lazy to dump all the coins from one drawer to the other, both ended up being coin jars together.
I think that the coin jar tells a little bit about you. my double drawer coin jar is typical of me. As you probably have already guessed, my wife's coin jar is Hello Kitty. Hers is actually a tin can and fits perfectly on a shelf in the living room. Not only is it neatly placed, you can also see that it is rather neat on the inside as well with only a few coins. Unlike me, she is good at spending the coins when she has the opportunity and thus her coin jar never gets that full and the two highlight our differences in this area.
I've often used money jars to help me remember people. For some reason, they have always been distinctive to me even when they were quite similar to someone else's. There has been more than one time when I've been asked by a someone, "Do you remember so and so?" and my reply would be "Oh, you mean they guy that has in coins in German beer stein with the half naked lady on it." At that point I would usually get a blank stare like I was half crazy since nobody but me would have noticed — until I finished "yes, I remember him…"
I can still remember the money jar that my dad had when I was growing up. All his coins went into a a Miami of Ohio Beer college beer mug that sat on his dresser and later got moved into the closet changing room. my best friend from elementary school to high school had his in huge water cooler bottle and I remember when he decided to turn all the coins in we couldn't even lift it up it was so heavy.
Have a coin jar? Take a photo of it, place it in your blog or site and leave a comment here. I'd love to see it – a description on why you chose it would be all the better. I'll link back to one and all and can't wait to see what else everyone stashes their coins in…
Coin Jars Around The Blogosphere
Barb's Coin Jar: Armywife's Journal
Jane Dough's Coin Jar: Boston Gal's Open Wallet
CollegeSaver's Coin Jar: Life of a Poor College Student
Princess Perky's Coin Jar: Princess Perky's Page
Dawn's Coin Jar: Frugal For Life
Contrary1's Coin Jar: Contrary1'$ Money Musings
RS's Coin Jar: Young Professionals Financial Blog
kashi's Change Jar: kashi's journal