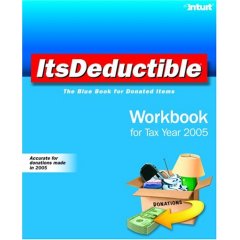 With the tax deadline right around the corner, you have already finished your taxes or will be finishing them soon. now is a great time to look at what deductions you were able to take and see if you can increase them for next year.
If you file a Schedule A (Itemized Deductions) when doing your tax return, you can claim hundreds of dollars in charitable contributions with just a small effort. In fact, you have most likely been short changing yourself on legal tax deductions in the past simply because you didn't know what your contributions were worth or what exactly you were allowed to deduct.
The simplest way to maximize your charitable deductions check out a book called It's Deductible
from your local library. (this book can also purchase with little risk – the book comes with a 60 day guarantee ("If you are not satisfied with the ItsDeductible workbook, return it within 60 days of purchase with your dated receipt for a full refund of your purchase price (excluding shipping and handling")
Some other places you can go to get an idea of what donated items are worth:
Salvation Army's Charity Donation Values Page
Valuation Guide for Charitable Contributions
The reason that it's valuable to know what you can deduct is that you can magnify your tax savings with this new knowledge. When someone offers you a box of items that you don't really need, you will no longer politely decline because you'll know that that box of goods is worth $50 in savings on your taxes. You will put yourself in a position to actively reduce your taxes.
One simple way to do this is to create a box specifically for items to be donated. Print out one of the value sheets and glue it to the outside of the box. Place the box in your garage, basement or attic. When you have something to donate, place it in the box and take it to the donation center when it's full. By designating a specific area, you are more likely to donate the items rather than throw them away.