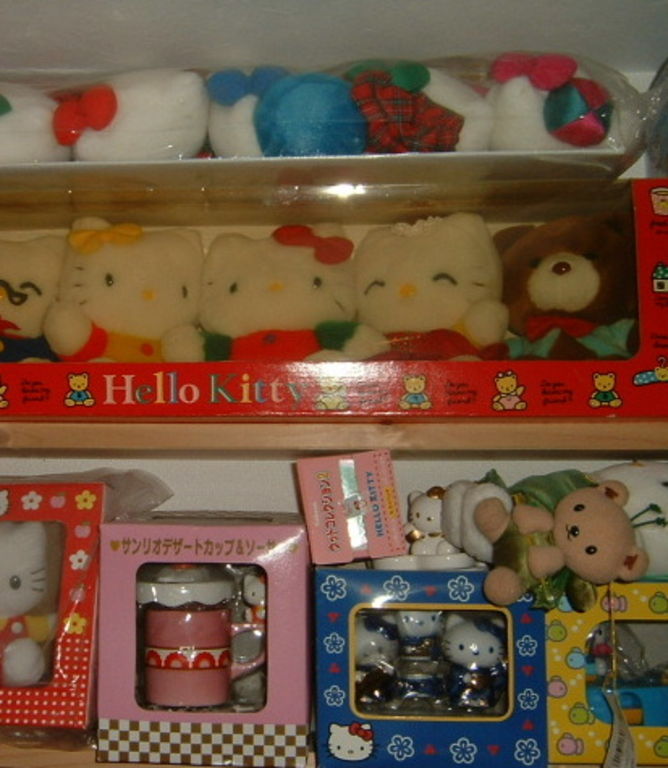 Hello Kitty piled to the ceiling
I really didn't want to get into more detail about the entire Hello Kitty business because, let's face it, it forces me to reveal that I know more about Hello Kitty than is healthy for any grown man to know (how many men do you know that can name all the members of Hello Kitty's family, when she was born or how to tell her apart from her twin sister Mimmy?) Furthermore, all my ads here are going to start being for Hello Kitty related websites & items and that really will be depressing.
Before I get into how my wife turned her hobby into a business, I request that people don't use words like "inspiring" in the comment section as this only makes my wife believe that expanding into more Hello Kitty areas is acceptable – this is encouragement we do not need to be giving her 😉
As I have mentioned, the situation is a Catch 22 because she has turned it into a quite profitable business. She clears $2000 a month in profit if she decides to work part-time (basically put on a few auction a week and let people purchase from the store) and can exceed $5000 in profit if she decides to work hard during the month (list a good number of auctions). It's taken a few years of hard work to get it there, but it pretty much runs on its own these days.
She is better at customer service than I am and in keeping her best customers happy (she has a huge repeat clientele). I've been trying to convince her to take over my old business in antiques where profit margins are even better (and she could undoubtedly make a small fortune), but as I hear every time I make the suggestion – "antiques aren't cute." While this frustrates me to no end, it highlights an important point that helps her make her new business so successful (and why hobbies can be a great place to begin a business venture). She likes Hello Kitty and that means she likes doing what she's doing – it doesn't seem like work to her a lot of the time.
The beginnings of the business were basic. I had been selling stuff on eBay and my wife thought that she could so the same. When she mentioned wanting to do Hello Kitty, I was a bit skeptical (goes to show what I know), but we agreed to take $500 for her to purchase her stock. Since Hello Kitty retail prices are fairly high, she knew from the beginning that purchasing retail, reselling and making a profit would be difficult so she had to come up with a way to get stock other than through retail channels (she has since found a select few items where she is able to do this).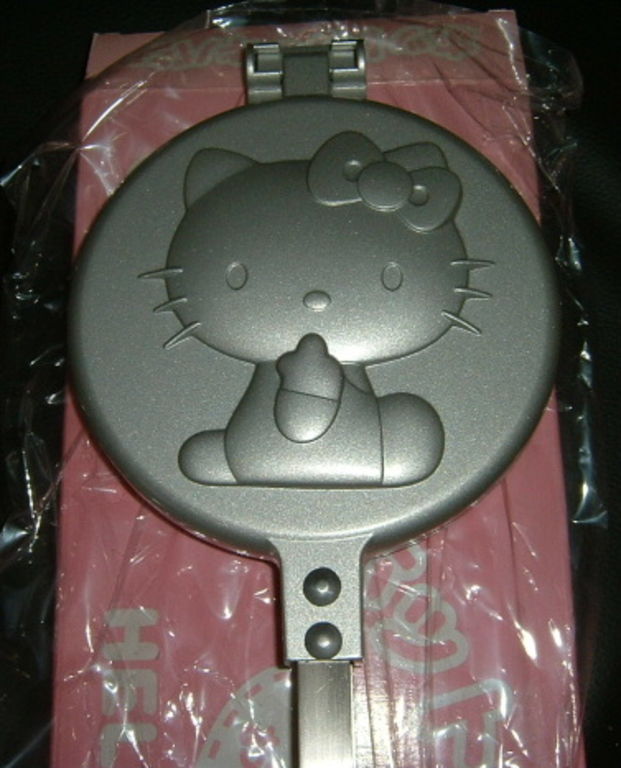 Bet you don't have a pancake maker where Hello Kitty is flipping you off – a great way to begin any morning
She began by following me to flea markets and second hand stores while I was looking for antiques. While she found plenty of items, most were dirty or not in sellable condition. We quickly determined that this was not going to be an area where she would be able to find a consistent supply of quality Hello Kitty goods. All this time she was putting on various test auctions to she what items were the most popular.
In time she was able to find a few Hello Kitty areas that were being under served (she asked me not to say specifically – yes, Hello Kitty collectors do collect specific themes within Hello Kitty). From these areas, she was good at listening at the requests that her customers were making (if one person was requesting it it meant that there were surely others that wanted it but couldn't find it). This lead her to eventually move into high end Hello Kitty plush (those that command $50 or more) and she continues to exploit the other under served areas she's found.
Her stock comes from a variety of areas that she has creatively found. Probably the most innovative (and by far the highest profit margin) is that she advertises in the local paper that she buys Hello Kitty in bulk from people who are moving or cleaning out their house (almost everyone in Japan has some type of Hello Kitty item). In Japan where space is limited, most of the Hello Kitty items would simply be thrown out when someone moved or cleaned – her offer to purchase even at pennies on the dollar is more than these people would get otherwise making it a win-win situation for all involved.
The first big hit? She was wandering around a local store and found a bunch of "vibrating shoulder massagers" at a large discount (quite similar to the way Max found his Linksys Wireless Kits at a discount at WalMart). These "vibrating shoulder massagers" were marked down from $20 to $5 and she decided to take the chance and buy them. She put them on auction and was surprised to find they each sold for about $100. It was only later that we found these were highly sought after collector items being used for means other than intended. While this was an accident, it cemented in her mind that collectors of certain Hello Kitty items that were difficult to find would pay top dollar for them. She's kept this philosophy intact as she has expanded her business and specializes in rare Hello Kitties.
Those are the basics for those that asked. For her, it's the perfect job (for me? – no comment) and that is one of the biggest advantages of using a hobby to make money. Not only does she get to purchase any Hello Kitty item she wants ("it's for the business, really"), she can flaunt them in front of me knowing that I can't complain because I'm the one who initiated this Catch 22. I would grab a box of Hello Kitty tissue to wipe away my tears (we have Hello Kitty tissue boxes in 6 patterns, small pocket sized Hello Kitty tissue in 8 patterns, scented Hello Kitty tissue "which smells just like Hello Kitty" – you don't want to know – and Hello Kitty tissue wet wipes), but who could ever choose?