I'm going to take a stand here and not include articles that I don't feel are about debt reduction. This doesn't mean the articles were bad (in fact, several were quite good), but simply they didn't really belong in this carnival. While mortgages, budgets, investing and other such topics can have debt reduction qualities, after reading these submissions I didn't feel that the authors wrote them with debt reduction in mind and they were more appropriate in other carnivals available. As No Credit Needed said last week: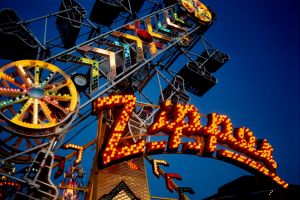 This message is for those who contributed to this Carnival. I want to thank you for your contributions, but I also want to encourage each of you to remember that this is the CARNIVAL OF DEBT REDUCTION. Articles submitted should be about DEBT REDUCTION. This Carnival is NOT for general personal finance issues. There is a Carnival for those posts, but this is not it. I strongly suggest to those of you who host the Carnival and to those who post to the Carnival, that we all stick to the assigned format: DEBT REDUCTION. Just my 2 cents.
I agree and unlike others who say that this will turn into a bunch of articles that all look the same, I don't feel that this has to happen. I think it would be great to receive more personal, first hand accounts of how people have tackled specific debts or debt related experiences (see first entry) instead of "this is how to reduce debt" generic articles. Just another one of my many opinions which doesn't make it correct, just the way I feel…
Deciding to leave out perfectly good personal finance articles was actually a much harder decision for me to make than it really should have been – since I have been guilty of submitting articles that probably didn't fit the specific carnival to the letter in the past, i struggled with was it right for me to exclude some submissions from others now? I finally decided that while it would have just been easier to included them all and not upset anyone, it was better for the carnival to stick to the theme. I hope that anyone who had their submission left out is not offended – again, there were some quality articles – and you understand why I made the decision. If you feel I'm full of it, feel free to leave your submission in the comments.
The result of my decision is that the this week we have much fewer entries. Again, I don't see this as a bad thing. It's tough to read a huge number of articles each Monday and I think fewer, more focused entries is actually beneficial to the readers (not so much for the writers and the host who don't get to trade as many links) which is the way it should be. So with all that rambling out of the way, here are this week's Debt Reduction entries:
Quodlibet writes about Bad Debts and Manners
Quote: He then said that I owed some money and had the option to make a payment there and then. I was like….what??! It turned out that they were a collection agency and that I owed money to my dentist. He asked me for my address in a really rude tone. I started giving it to him before wondering if this was some kind of phone spam…
Money and Investing writes Try Cash Only – Or Debit Only:
Quote: Credit cards give us a false sense of economic power. Citibank ( C ) tells us to "live richly" VISA tells us that "life takes risks" The reality is that if you live richer than your income allows, you are taking the risk of getting yourself into a miserable situation. When expenses consistently exceed income debt will grow exponentially, until it can become unmanageable.
Blueprint To Financial Prosperity explains how to Use 0% Balance Transfers to Pay Off Debt:
Quote: The reason why people don't recommend paying off a "safe" loan like a car or mortgage with a "dangerous" loan from 0% balance transfer is because you can't see into the future.
Balance Transfer also discusses Consolidating My Debt While Avoiding Interest Charges: Zero Balance On All but Two of My Credit Cards.
Quote: I recently transferred a few balances in order to consolidate my credit card debt and take advantage of some great lower interest balance transfer deals.
A New Kerouacwrites about how he was able to "1. make less money, 2. pay off debt, 3. travel, 4. move to CO, NY, NC and back to CO again, and 5. still manage to buy things he wants (like clothes and new tires!)." in his post How I Do It
Quote: My post-college experience was one filled with lots of free-spending and not enough income. Instead of continuing this trend indefinitely, I did little things to put it to a stop. It began with a few rebates and bonuses I received. I used them to pay off the largest chunk of my debt…revolving credit cards with balances ranging from 800 to 2600 dollars.
The No Credit Needed Network has a post Updating the saving / debt reduction of their members.
Quote: As you can see, we are making some AWESOME progress. As a group, we have improved our financial positions over 15 THOUSAND 18.3 THOUSAND dollars in one month!
My entry this week was posted over at Sound Money Tips and was a review of Liz Pulliam Weston's new book Deal With Your Debt.
Quote: I especially like that Weston doesn't fall into the often seen over-hyping that everyone in America is running around with $9000 credit card balances.
While this has focused on personal debt, those of us living in the US also have a national debt which can be seen in the Debt Clock. This leaves each man, woman and child a $27,705.34 (at the time I wrote this entry) share of the debt. Of course these numbers are sure to rise since Congress decided to raise the National Debt Limit to $9 trillion. Now if it was only that easy for us as individuals.
For more information about this carnival you can visit Mighty Bargain Hunter for a complete schedule and you can make submissions to Wealth Today who will be hosting it next week.
If you're looking for more reading, these other compilations are also up this week:
Free Money Finance is hosting the Festival Of Frugality
Casey Software is hosting the Carnival of the Capitalists
All Things Financial is hosting the Carnival of Personal Finance