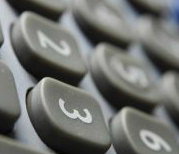 When you give information to a company, that information is worth money. Whether it is an application for a credit card or a cell phone application, the information can (and often is) resold to others for a profit. You may be surprised at how much it is really worth. For example, a lot of the personal finance writers list their net worth and assets. Their asset information is worth $6.95. Basic information you'd supply for many applications can add up to over $100. SWIPE is an organization that you should request the value of the information you give to others as they will likely resell it and make a profit from it.
This calculator allows you to determine what your data bits are worth on the open market so you can request proper compensation when it is asked from you. For instance, a typical cellular phone company will ask for your address, date of birth, phone number, Social Security number and driver's license to open a new account. Consult our data calculator and that will be $13.75 please!

Refer to this calculator when you interact with all businesses and government agencies. Make sure you get a cut of the profits from the reselling of your information.
Here is what your personal information is worth at the retail level according to the SWIPE Personal data calculator ranked in accordance to worth:
| Rank | Information | What It's Worth |
| --- | --- | --- |
| 1 | Military Record | $35.00 |
| 2 | Bankruptcy | $26.50 |
| 3 | Worker's Comp | $18.00 |
| 4 | Unpublished Phone # | $17.50 |
| 5 | Felony | $16.00 |
| 5 | Industry Accreditation | $16.00 |
| 7 | Employment | $13.00 |
| 7 | Sex Offender | $13.00 |
| 9 | Education | $12.00 |
| 10 | Cell Phone # | $10.00 |
| 11 | Own Business | $9.95 |
| 11 | Past Addresses | $9.95 |
| 13 | Credit | $9.00 |
| 13 | Misdemeanor | $9.00 |
| 15 | Social Security # | $8.00 |
| 16 | Divorce Info | $7.95 |
| 16 | Marriage Info | $7.95 |
| 18 | Assets | $6.95 |
| 19 | Driver License Info | $3.00 |
| 19 | Motor Vehicle Reg | $3.00 |
| 19 | Relatives | $3.00 |
| 22 | Assets Seized | $2.95 |
| 22 | Lawsuits | $2.95 |
| 24 | Date of Birth | $2.00 |
| 25 | Aircraft License | $1.50 |
| 25 | Own Aircraft | $1.50 |
| 25 | Own Boat | $1.50 |
| 25 | Real Estate | $1.50 |
| 25 | Shareholder | $1.50 |
| 30 | Accident Record | $1.00 |
| 31 | Own Vehicle | $0.75 |
| 31 | Professional License | $0.75 |
| 33 | List of Vehicles | $0.70 |
| 34 | Address | $0.50 |
| 34 | Executive Affil | $0.50 |
| 34 | Past Phone #'s | $0.50 |
| 34 | Zip Code | $0.50 |
| 38 | Concealed Weapons | $0.25 |
| 38 | DEA License | $0.25 |
| 38 | Firearms License | $0.25 |
| 38 | Hunting & Fishing License | $0.25 |
| 38 | Merchant Vessel | $0.25 |
| 38 | Neighbors | $0.25 |
| 38 | Published Phone # | $0.25 |
| 38 | Registered URL | $0.25 |
| 38 | Voter Registration | $0.25 |