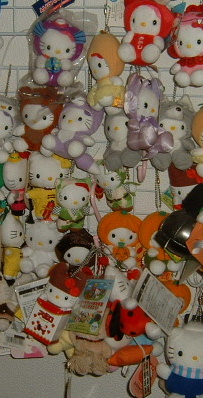 I mentioned earlier that anyone can turn their hobby into a money making venture. While I do truly believe this, putting it into practice can sometimes have some horrifying unintended consequences. My house is a perfect example of this.
My wife has always thought that Hello Kitty was cute and she would buy an item here and there to display. When we were considering purchasing a house, we decided that we would need some extra income to be able to afford the place we wanted. I explained to her that she could take any hobby she had and we could make it into a money making venture. Her choice was Hello Kitty.
Thinking back, I should have made her pick something else right then and there, but for some reason it never occurred to me that she would do such a good job of turning the hobby into a business. I also never imagined having to live in a house full of Hello Kitty (this, unfortunately, only confirms that you really can turn anything into a money making venture with enough creativity)
Now, I figured that when she began, she might sell a few items a week to bring in a little extra cash. I mean, who would ever imagine that some people would pay nearly $100 (and sometimes more) for a Hello Kitty plush (that's a stuffed doll for those not into Hello Kitty collecting) – they do and my wife has turned Hello Kitty into a profitable business. The problem is that when she discovered she could make money at her hobby, her hobby greatly expanded to include practically anything Hello Kitty. In fact, I would not be surprised if No Credit Needed got his Hello Kitty water cooler from my wife (we've certainly had much stranger Hello Kitty items come through this house).
So I now find myself in a catch 22. I encouraged her to turn her hobby into a money making venture so I can't really ask her to stop, but you have to start questioning if it has gone too far when you have 4 different types of Hello Kitty toilet paper to choose from in the bathroom (although I must admit I like the pattern in the top right corner – doesn't it look like Hello Kitty is flipping you off as she winks at you?)
Even with the photos, you can't imagine our house. Her eBay Store has nearly 900 items in it (yes, those $250 plush do sell, believe it or not) and she has multiples of most (to give second chance offers). That's not to mention all the stuff she hasn't listed yet and you can maybe get a small feeling of what it is like where I live. That being said, she brings in more money than I make at this journal and the main site so there isn't a lot I can say.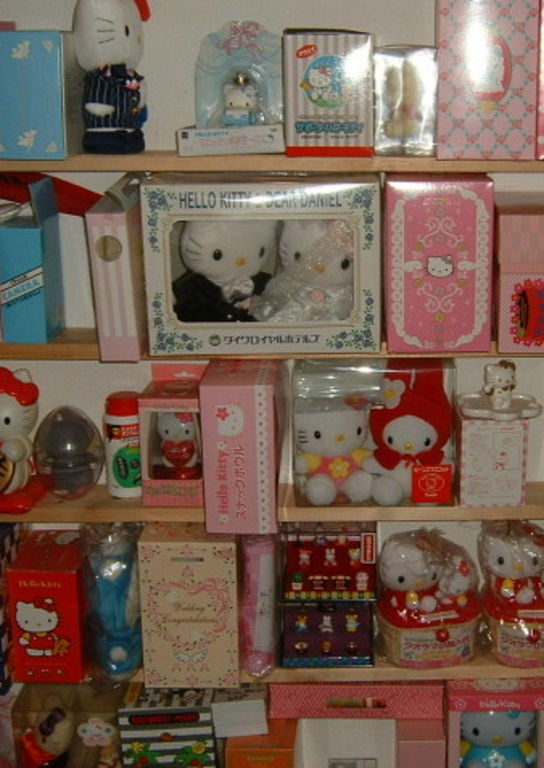 The moral of this story has two parts: 1. Even things you might not think you can turn into a profitable business can be, and 2. If you are helping someone to choose what hobby they should attempt to turn into a money making venture, make sure that if they mention Hello Kitty, you lie and tell them that is the only hobby where it can't be done 😉
Oh, it doesn't end here…More Hello Kitty Catch 22