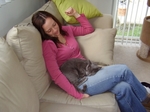 I'd like to welcome Liz from Everyday Goddess as my first guest writer here. She has put together some excellent information about her experience of setting up and placing a Prosper.com loan request on auction (I also highly recommend her blog if you're in need of getting away from personal finances for awhile). Enjoy:
As a personal blogger, I blog about my romantic life, my childhood traumas, my bad days and the band that's playing downtown this Saturday. I'm sure a whole lot of it seems really, really intimate. But what's truly the most intimate, what I find most difficult (read: terrifying) to blog about, is my finances.
See, I'm not in the best financ
...