If you have done eBay auctions for any length of time, you soon realise that Paypal takes quite a bit in fees from your sales, but they have also extended their reach into a lot of other enterprises on the Internet. For example, most of our advertising is paid for through Paypal payments. That means that if I can reduce the fees of Paypal, I'll see hundreds of extra dollars go directly into my wallet.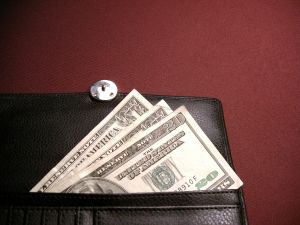 When I first began selling on eBay there were no fees involved with Paypal. In fact, they were paying bonuses for referring people at that time so it was actually a money generator. That is far from the case these days. The problem has always been that there really is no alternative to accepting Paypal payments so whatever fees they decide to charge, you just have to swallow hard and accept them (much like there is no real alternative to eBay for selling through auctions and thus have to swallow hard and accept their fee increases time and again)
There may be a change in the wind with information from the Wall Street Journal that Google is testing a payment system called GBuy (trying to get to gbuy.com currently brings up a page not found page). Some interesting information from the article:
Long the Internet's leading online-payments service, PayPal has a 24% market share of U.S. online payments, according to financial-institution consulting firm Celent LLC. PayPal, founded in 1998, boasts 96 million accounts with consumers who want to send payments online without revealing their credit-card or banking information to vendors. To use the service, customers simply set up an account with their credit-card or bank-account details, fill out a payment amount and the email address of the recipient, and send the payment via the Internet to PayPal. If the recipient doesn't have an account, he simply opens one in order to collect the payment. The service gained traction on eBay and proved to be more popular than an in-house payment system it had been using…

But PayPal must now contend with Google. The Mountain View, Calif., Web-search giant, which has terrified Silicon Valley with its ability to quickly create new consumer products and services, is developing a rival service called GBuy. For the last nine months, Google has recruited online retailers to test GBuy, according to one person briefed on the service. GBuy will feature an icon posted alongside the paid-search ads of merchants, which Google hopes will tempt consumers to click on the ads, says this person. GBuy will also let consumers store their credit-card information on Google.

Google said that it has acknowledged publicly on many occasions that it is working on payment products. The company also said it already processes online payments for ad services, as well as fees from consumers who use features such as Google Store and Google Earth. It declined to comment on any pending products…
I'm sure that I'm not the only person that does business on eBay and the Internet that will quickly switch from Paypal if a legitimate alternative comes into being that undercuts the cost associated with Paypal. Even a 1% decrease in costs would save me a significant amount of money.
It is with this in mind that I am highly anticipating the launch of this new payment system. If Google stands by it's tradition of creating the tool and giving it away for free to use while making money on the advertisements associated with it, people like myself will flock to it. The key is that Google could make the payment system broad enough so that it would be an acceptable alternative to Paypal.
Even if the system doesn't complete directly with Paypal as Google Chief Executive Eric Schmidt has said, it most likely will cause price pressure on the fees that Paypal is currently charging. That can only be good news for a lot of us who make their living (or at least a partial income) on the Internet.