According to a new ACNielson survey, people in the US are the most cash strapped people in the world with 22% saying they have no money left after they have paid for their essential living expenses. This ties the US for number one with Portugal.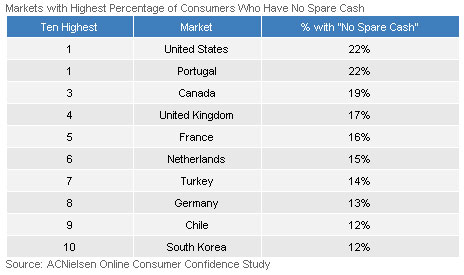 While the numbers are nothing to smile about, there are a few positive signs within the numbers. The 22% that don't have any spare cash is down 6% from 28% who reported they didn't have any extra money in May 2005. In addition, among those that do have extra money, more are paying down credit card debt (42% compared to 37% in May 2005) and putting money into savings (35% compared to 23% in May 2005). Still, only 11% are using extra money to put into a retirement account and 12% into stocks or mutual funds.
For the first time, the survey asked respondents what steps they take to keep their budgets balanced. The number-one strategy was to cut back on eating restaurant prepared meals. More than half also said that they save on gas and electricity, spend less on outside entertainment and reduce the amount they spend on new clothes to keep their budget balanced.
While the efforts are a step in the correct direction, I feel most would benefit much more if they concentrated on saving money in areas where they can reap big, instant savings rewards for the time they spend — only 16% are trying to do this according to the survey. Once these have been exhausted, they can move onto (if needed) those other money saving methods mentioned in the survey.
What the survey shows most of all is that Americans need to learn a lot more about basic personal finance and saving money.