NOTE: The entire challenge series is what I would do with my money and is merely my opinion. You should do thorough research and seek professional advice and decide to do what is best for you. My Disclaimer
Welcome to the second week of the Financial Challenge. While we spent some time last week looking how people with credit card debt should allocate the money that they will be saving, we also need to take a look at how those who are already ahead in the game and have extinguished their credit card debt should allocate the money that they'll save. Once we have established where the money should be going, then we can get into the meat and potatos of getting your personal finances in order and reducing your costs to find that minimum of $100 a month we want save.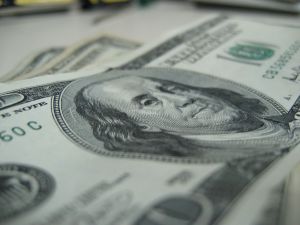 I believe that saving money is by far the best investment that most people can make. My general guideline is that if you have less than $100,000 in liquid investments (no counting the value of your house here) then saving money with simple investment techniques ("simple investment techniques" means that you can place them in the investment and forget about them for 25 years) will get you a better return than trying to study the stock market and pick individual stocks. Once you reach the $100,000 level then you can decide how to proceed from there as you will have a solid financial foundation to work from to try and get a slightly better return.
Once out of debt, the first place to invest is your company's 401(k) plan if they offer a matching bonus. In fact, you may actually want to make contributions to your 401(k) even while you have debt depending on what the company match is.
Many companies offer to match a percentage of money that you contribute to the company's 401(k) plan. For example, if you put $1000 into your 401(k) plan, a company that matches 100% contributions would add another $1000 so that your 401(k) would receive a $2000 contribution. That's a 100% return on your money just for putting it there instead of someplace else. Other companies may match 50% or 25% which mean they would add $500 or $250 to your $1000 contribution to the 401(k) plan. This is still an instant 50% or 25% return on your money. What percentage each matches (or if they even match at all) varies from company to company. Your goal is to invest as much money as you can into your company 401(k) plan as long as the company will match some percentage of what you invest. What we're after here is the free match money.
I mentioned earlier that even if you had credit card debt, you might want to contribute to your company's 401(k) plan instead of paying down the credit card debt. This is a difficult one that you will have to seriously consider. The money that you forgo in your company's 401(k) match is money lost forever. On the other hand, if you place all your extra money into the 401(k) plan so that at some point you need to take it out of there early to pay off credit card debts, it makes little sense. Since this depends quite a bit on your individual circumstances, if this is an issue in your case, leave a comment with all your particulars to get a variety of opinions from those taking the challenge.
To sign up for your company's 401(k) plan shouldn't be difficult at all. Usually all you need to do is fill out some paperwork provided to you by your company and choose the percentage of your income you want deducted from each paycheck put toward the 401(k) plan (which, as we mentioned above, should be as much as you can up to the percentage that the company matches). Any money you put into the 401(k) is deducted from your pay before income tax withholding is calculated. Social Security taxes are taken out on the amount that you designate for your 401(k) plan and then standard taxes are deducted from the rest of your paycheck.
Another method that your company may use is an automatic enrollment feature. In this case, you are automatically placed into the company's 401(k) plan for a specific percentage of your income without doing anything. If it's not the correct percentage you want taken out, you must go to the personnel office and change it to the percentage that you want.
Once you are signed up for a designated percentage of your paycheck to be withdrawn into the 401(k) plan, you'll need to decide what investment option to choose. When deciding, you must choose what's appropriate for you and you bear the risk of your choice (not the company). While this may sound intimidating, the truth is that the choice is simple.
The choices that you will be given can range quite a bit from company to company with some only giving a few while others will give quite a bit. These are the choices you're likely to see:
100% invested into a fixed account.
100% invested into a bond fund.
100% invested into a stock fund.
100% invested into shares of your company's stock.
A combination of the above choices.
The investment you want to choose is the 100% stock fund. While this may sound risky to some of you (it does to many as over one-third choose a fixed account even though this is a poor choice), it really isn't and this is why. Since you are receiving a match from the company (ie free money), even if the stock market dives terribly, your losses will be minimal to none. Over the long haul, you'll end up way ahead.
Think of it this way. If your company matches 50% and the stock market has an absolutely miserable year and loses 30% of it's value, you still didn't lose any money. The only the money that is gone is the money that the company matched which was free. Even if you wanted to consider the worst case scenario where the stock market loses 99% of it's value in one year, it still isn't that bad. Why? Because if your 40 years old, you still have 25 years to contribute when the stock market is at it's absolute lowest and can only go up (we'll talk more about "dollar cost averaging" later). If you think about it this way, stocks are by far the best option.
Every good rule or strategy needs a good exception to go along with it and investing your 401(k) in stocks is no exception. The exception to this rule is if you are planning to withdraw the money from the 401(k) within a few years. Stocks perform well over long periods, but are quite volatile over short periods and that is why you should pick a safer investment when you are coming close to taking the money out.
There are also a couple of asterisks that go along with investing your 401(k) in stocks. If you currently are not in stocks and you have a sizable amount already saved, you don't want to transfer it all into stocks. What you want to do is diversify that money placing 25% into each of the different choices. All future contributions, however, should go into the stock fund.
The second asterisk is that you should invest in a diversified stock fund. You don't want to invest all of it in a single stock such as your company's. Even if you company is doing very well or if you expect it will do well in the future. When it comes to long term investments, it's never a good idea to put all your eggs in one basket.
The last issue with the 401(k) plan is the contribution limit. Again, since we are going after the matching funds, this usually isn't an issue but it's likely that your company's plan will have a pre-set maximum percentage of income that you can place into your 401(k) from each paycheck. In addition, The government, not wanting to lose too much tax revenue, also places a maximum amount of money that you can place into a 401(k) on a yearly basis. In 2006, the annual dollar limit that an employee can defer to a 401(k) plan is $15,000.
In the time that you have set aside for the challenge today you should find out:
1) Does your company have a 401(k) plan
2) If it does, up to what percent does it match funds you contribute
3) Place all current funds in the 401(k) into a diversified portfolio with all future contributions going toward a diversified stock fund
Once you have set this up you can leave it alone until you are nearing retirement age and use your valuable time to concentrate on maximizing your savings.
For previous Financial Challenges