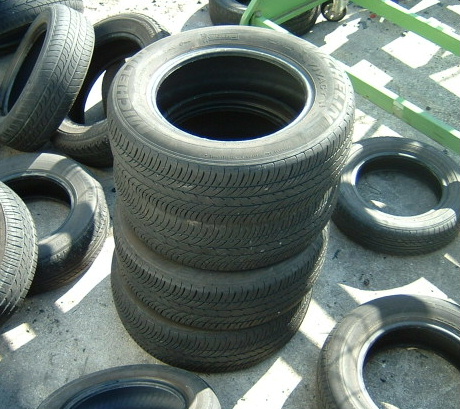 I was informed with our annual car check that our car needed new tires. I went and looked at them and they appeared to be perfectly fine to me. We don't drive that much and have maybe put 10,000 miles on them (and that is probably stretching it). When I asked why we needed new tires, he said it had been three years since we bought them. huh?!?
"But they're still perfectly fine."
"They are three years old. You need new ones to be safe."
"And how much are new ones going to cost?"
"$800"
"?!?" and a few choice words I can't repeat mumbled under my breath. "You want me to pay $800 for a new set of tires that the car doesn't need just because they are three years old?"
"The car does need them because they are three years old."
Trying to be logical, I tried this from another angle. "Okay, can you show me what is wrong with the tires. Is the tread to low? Is there a cut or puncture that make them dangerous? Can you show me what is exactly wrong with them?
"They're three years old."
I gave up at that point and said I would think about it.
I was telling this story at a gathering and one of the guys I was talking with just sat there smiling the entire time. When I finished, he leaned over and said, "Those tires should have been mine."
Brian came to Japan from New Zealand originally to teach English, but saw an opportunity and has turned it into a million dollar business. After talking with him, anyone could have done it if they had kept their eyes open.
Getting rid of tires is quite expensive for auto shops in Japan. They have to pay someone to haul them away and dump them. Brian gets paid well to haul them away and then he tells me a secret. "The truth is, I would be willing to pay them to take the tires if they only knew."
Why? Unlike all the Japanese companies that haul away the tires, he doesn't pay to throw them into a dump. Instead he ships them back to New Zealnad where he – yes, you guessed it – sells the again. It seems that changing tires that are still in good shape and have life is a fairly common occurrence in Japan and they bring a nice profit when he sells them back home. So not only does he get paid for hauling, he gets paid again for selling them. Quite smart and anyone could have done it.
On my way to the post office there is an auto shop and there is always a large pile of tires that are waiting to be hauled away. I've walked by them a million times and never even thought that there was a couple of thousand dollars sitting on the street.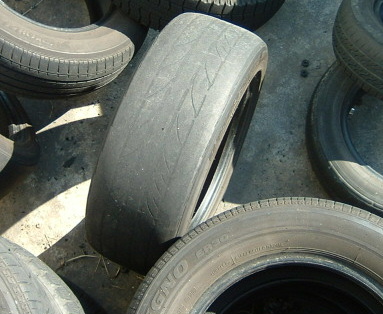 Some tires need to be replaced, but they are the minority
I went and took a closure look today when I went by. Sure enough, the vast majority of the tires appeared to be in good condition. There were a few that obviously were well worn and needed to be replaced, but they were the minority in the pile. Some of them looked practically brand new.
It's another example that there are a lot of opportunities around you to make money if you keep your eyes open.
Oh, and by the way, I decided I didn't need new $800 tires.