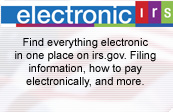 Free File is a program going on its
fourth year where a number of the top
tax software companies offer their
software for free to those filing taxes
through the Internal Revenue Service's
website. Basically what happened was
that the IRS wanted more people to
file online because it costs them a lot
less and was going to develop their own tax software which scared the tax software companies (becasue if the IRS is offering free software, why would you buy other tax software?). Instead, the software companies agreed to allow their software to be used for free in the program to certain segments of the population and the IRS agreed not to develop its own tax software.
Last year there was
...