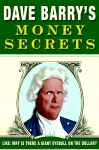 I will definitely be adding Dave Barry's new book
Dave Barry's Money Secrets to my bookshelf! It's
not often that I laugh through a book review:
On taxes
"Here's a tax-saving opportunity few
taxpayers take advantage of: Instead of
simply writing your name, write your
name plus the word DECEASED."
On the US economy
"… The gross national product is several trillion dollars, of which one-third is sent to the government in the form of taxes for the express purpose of being wasted. Another third goes directly to Bill Gates. The remaining third is divided up into wages and prices, which go up and sometimes, in the case of wages, down, in response t
...