Had a great time (where else but in Japan can you get a squid on a stick?) and delivered the prayers to Ebisuten (the God of Wealth).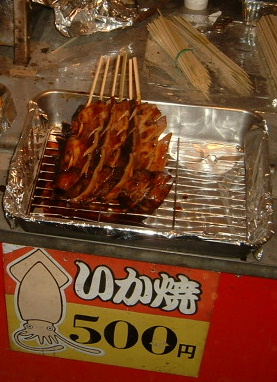 squid on a stick
Half the fun is the walk to the shrine and back. The streets are lined with booths for all types of food and games. Imagine a local school carnival on steroids and you'll begin to get the picture. Of course, once you arrive at the shrine it doesn't stop. The booths continue on until you reach the main area to pray. Good fun all around.
The first thing that happens when you walk into the area to pray is that you're blessed by having this paper thing (imagine a large duster made of paper) placed on your head.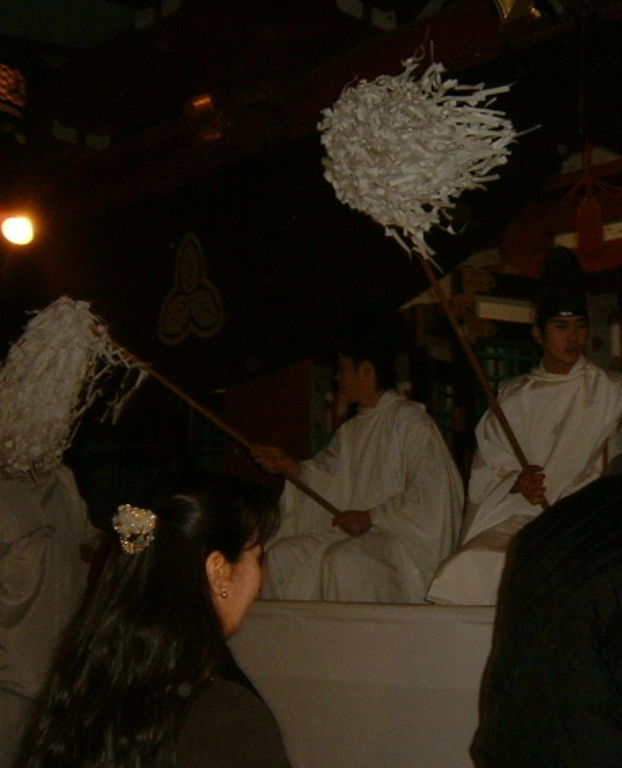 people being blessed on entry
Once inside, there is a huge tuna where people place coins for good luck. While the priests say that placing the coin anywhere on or in the fish is fine, people seem to believe that you'll receive the best luck if you are able to make your coin stick on the outside of the fish.

placing good luck coins on the tuna
Once finished it's time to pray for good fortune. I brought along 22 five yen coins (the five yen coin is considered a coin of good luck) to make a wish for all those that requested I do so for them.

22 good luck coins – one for each person
After tossing the coins, I made the requests that everyone had passed along. Usually you would shake a large bell to summon the Gods, but because there were so many people they had taken them down, Therefore I simply clapped and then prayed.

Jeffrey passing on everyone's requests to the God of Wealth
After the prayers are over, the first order of business is the God of Wealth taking as much money away from you as possible 😉 As you exit there is a place to purchase "omamori" (talismans or amulets for good luck blessed by the shrine). While they sell omamori for everything from love to health to passing your school exam, I of course opted for 2 for business success (one for me and one for Nate)

the area to purchase "omamori"

Jeffrey's & Nate's good luck "omamori"
The good luck business success omamori cost $10 a piece (I wonder if I can deduct them on my taxes as a business expense). Of course this is just the beginning. Next there are good luck branches that are supposed to bring good monetary fortune.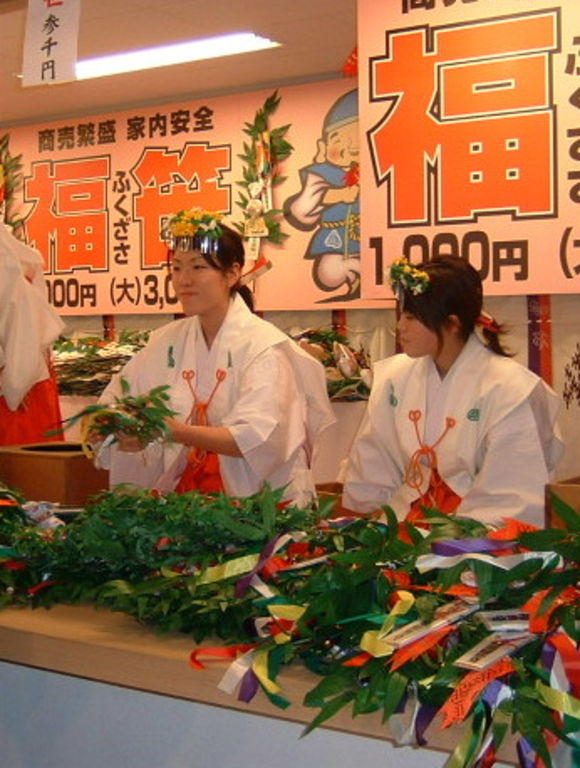 good luck money branches
These cost $10 for a small branch and $30 for a large branch, but we passed on these. Why? Because those are too small! Once you pass where they are selling the good luck branches, then you get to the good stuff. There are a number of different good luck money fortune items to choose from that range in price from $10 to over $500.

All the different money charms to choose from
All of these feature Ebisuten (the God of Wealth) and have a variety of meanings. There are rakes which mean that you will rake in money. Then there are scoops which are higher than rakes because you scoop up the money. Each has a slightly different meaning and, of course, the bigger (and more expensive) you buy, the more monetary luck you're supposed to receive. My wife decided that we needed a scoop this year:

the God of Wealth good luck scoop we bought
Let's just say that that we better have a pretty damn good financial year for what we paid for it!
The next stop was to get our personal fortunes:

the area to purchase personal fortunes
You shake a wooden jar and take a stick out of it. The stick has a number and that is the fortune you're given. These personal fortunes are simply a piece of paper that detail the type of luck you'll have in different areas of your life. Once you are finished reading it, you tie it either to tree branches or a special area set up so that the fortune comes true.

the area where personal fortunes are placed
Once that was finished it was time to head back and eat a ton of food along the way. Good fun all away around and it should be a prosperous year!